Share
Fat Cat Original Pockey 7ft Black 3 in 1 Multi Game Table
Regular price

Price:

$1,470.00

Regular price

List Price:

$1,764.00

Sale price

Price:

$1,470.00

You save:

$294.00 (17%)

Unit price

per
5% Off and Free Shipping | Coupon Code: TODAY | Ends:
✔️ #1 Authorized Dealer | Full Manufacturer's Warranty
✔️ Lowest Price Guarantee & No Sales Tax (except FL)
✔️ Free Shipping on All U.S. Orders
✔️ Questions? Talk to an Expert: (800) 544-8060
Description
Fat Cat Original Pockey 7ft Black 3 in 1
Want more than one popular gaming table but limited on space? The Fat Cat 3 in 1 Multi Game Table might be the solution you are looking for.


This revolutionary 3 in 1 game table design offers you three of the most popular game tables in one third the space.  Enjoy the air hockey table, pool table or ping pong table with your family or friends with hours of fun.


Each of the three surfaces in this game table are perfectly designed for each game, to make sure you have the perfect experience. 


The small pool table features a sleek, smooth, durable, heavy duty cloth surface that plays just like a high end professional billiards table. It also features a clean in pocket design and real rubber bumpers for an authentic play experience.


When you flip the pool table, you will find the powered air hockey game surface. This 3 in 1 gaming table features a full powered electric motor that can output a staggering 80 cubic feet of air per minute.  The result is an amazing, clean gliding puck. This air hockey table also includes a glossy play surface and crisp hockey graphics to enhance the atmosphere during play.


The last game in this 3 in 1 gaming table is table tennis. A convenient top can be added quickly on either side of this gaming table and locks in place while play.  The top also reverses and keeps all of those gaming accessories in place.


FREE Shipping & Insurance on all of our Fat Cat products. 


Fat Cat Original Pockey 7ft Black 3 in 1 Multi Game Table Features & Specifications
Product Features:
With the Fat Cat Original Pockey, you get three table games for the price of one in this convenient space-saving table including air hockey, billiards and table tennis.

Fat Cat 3-in-1 game table make changing games a quick and easy. Just unlock the convenient latches and flip it. For storage, it can also be locked upright.

Includes all of the gaming accessories you need to play as soon as you unpack the box.
Product Specifications:
Dimensions: 87.00"L x 44.00"W x 32.00"H

Weight: 286 lbs
The 7' size fits conveniently in tight spaces
Gaming Table Accessories (Included):
four air hockey pushers and pucks
a set of 2.25" billiard balls
a resin triangle
two 57" pool cue sticks
two pieces of chalk
a billiard table brush
two table tennis paddles and balls
a table tennis net with post set 
---
5 Great reasons to buy from us:
Free Shipping on Everything

Lowest Price Guarantee

Authorized Dealer

Expert Customer Service

Safe & Secure Ordering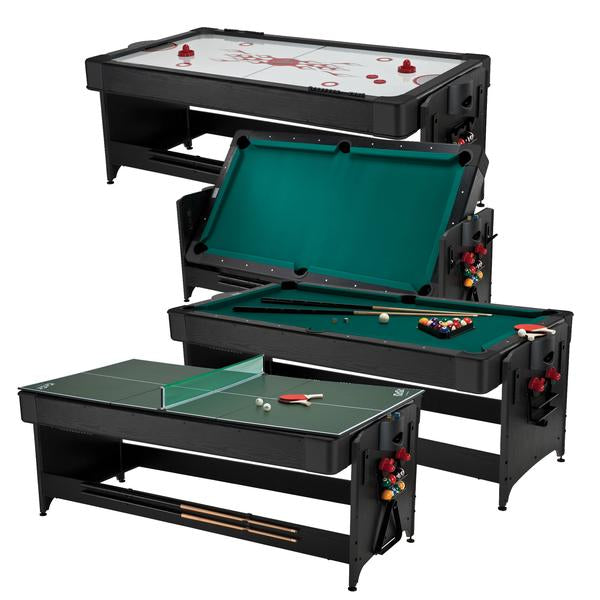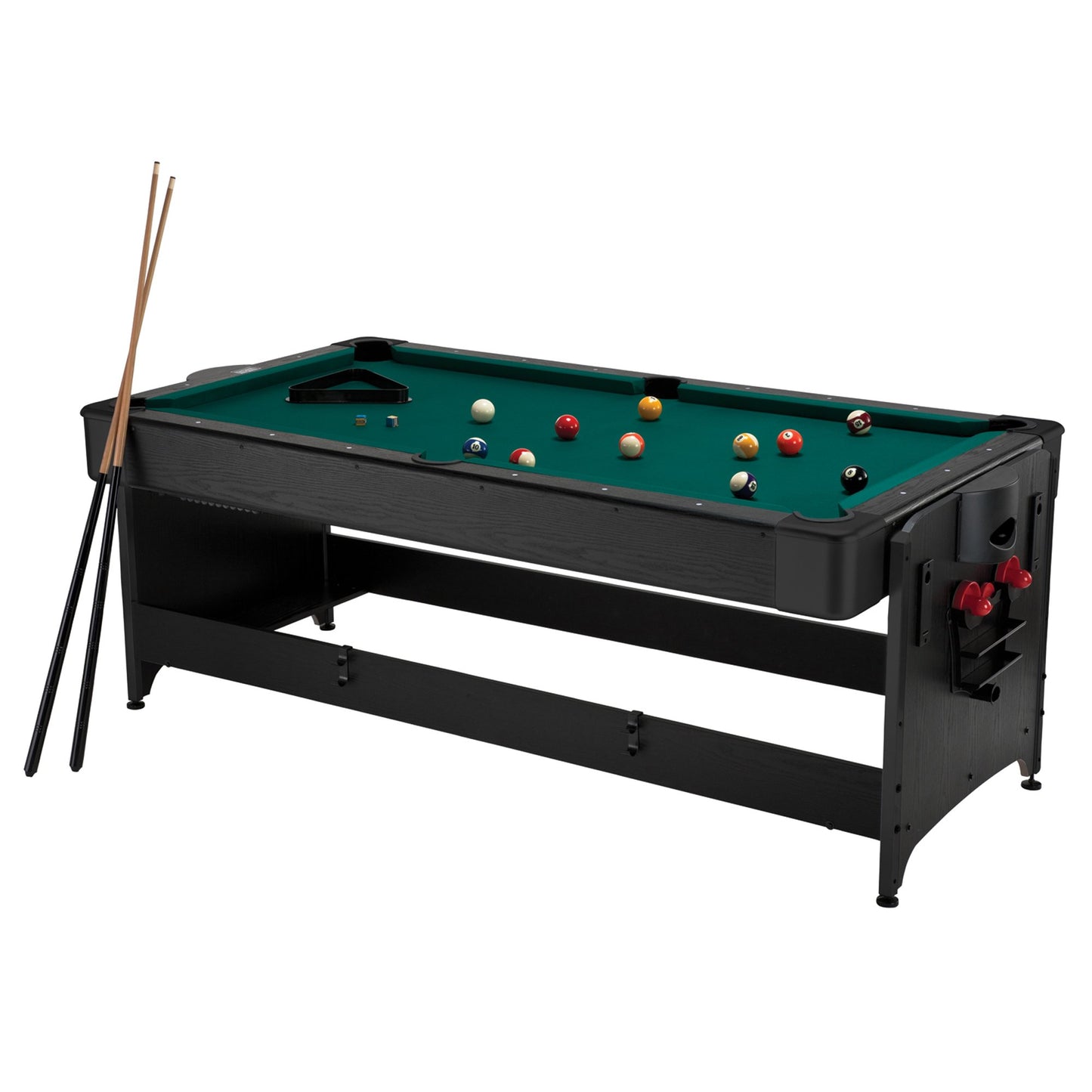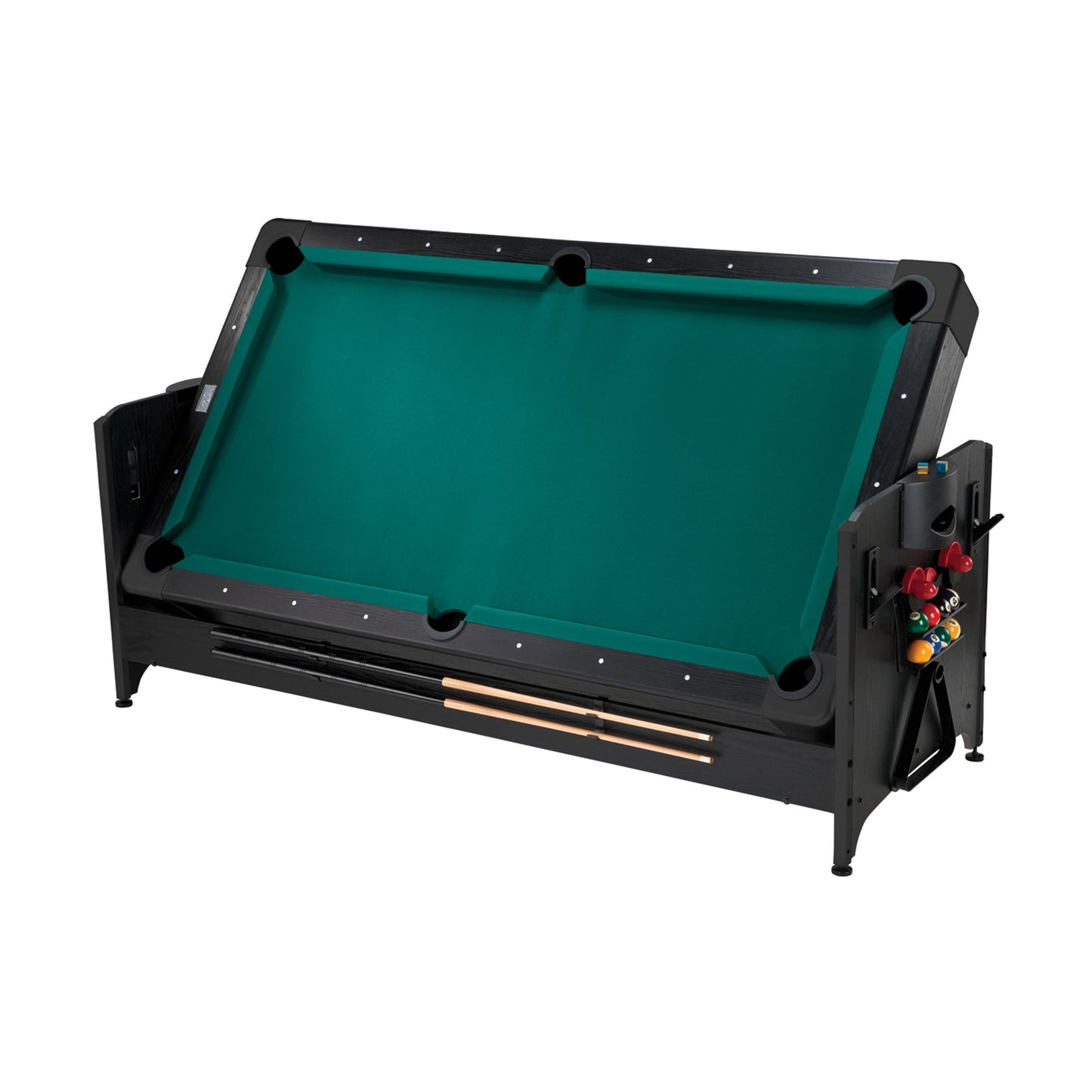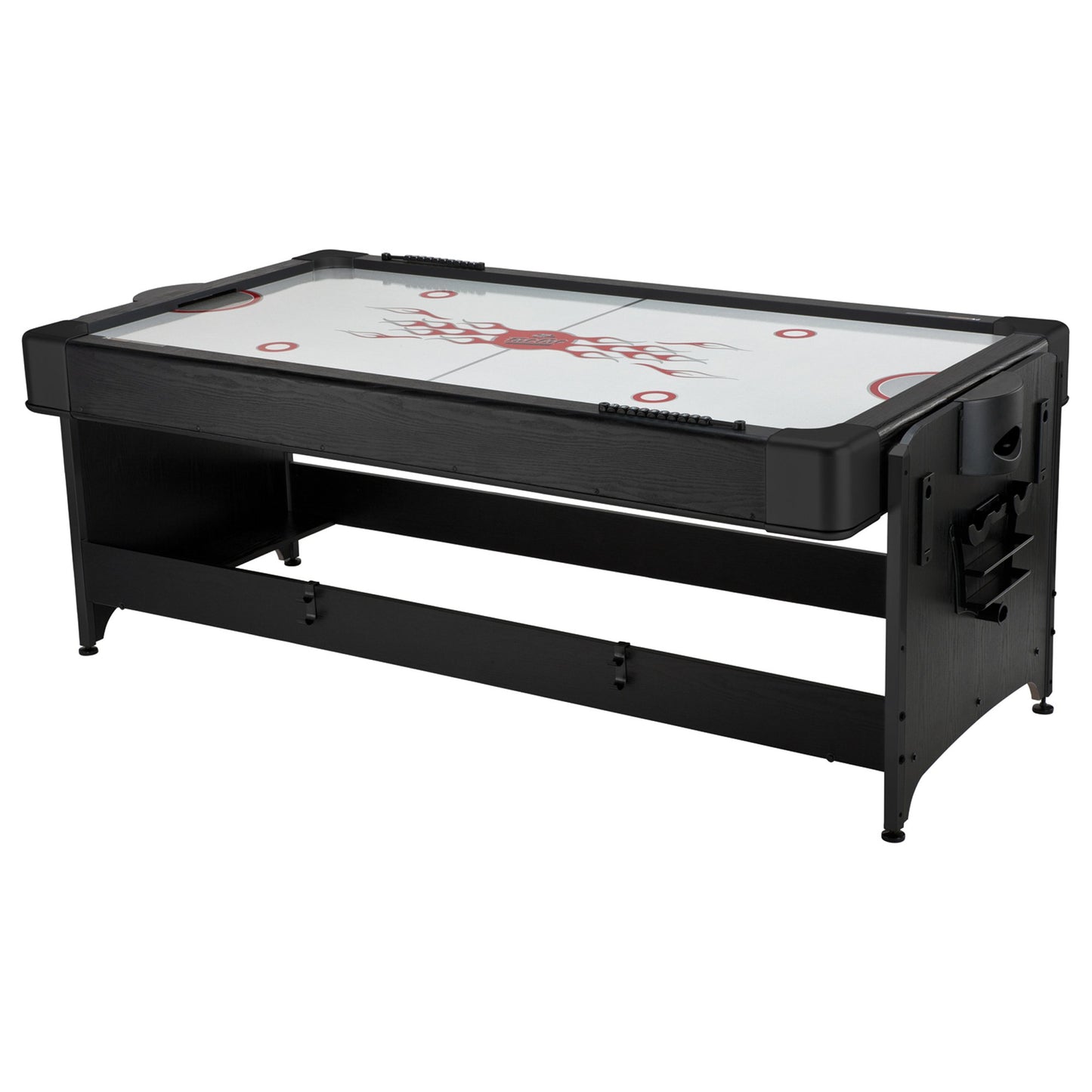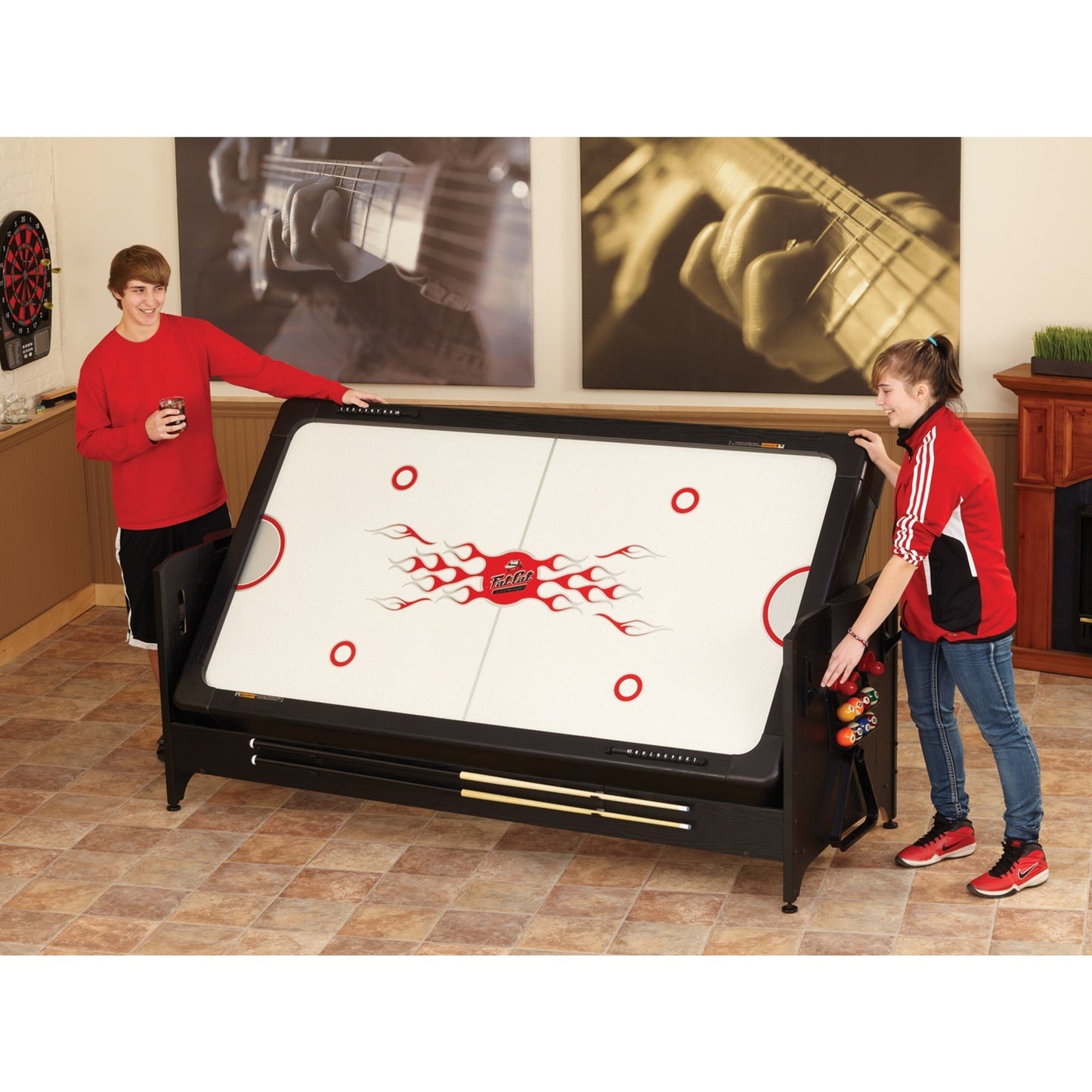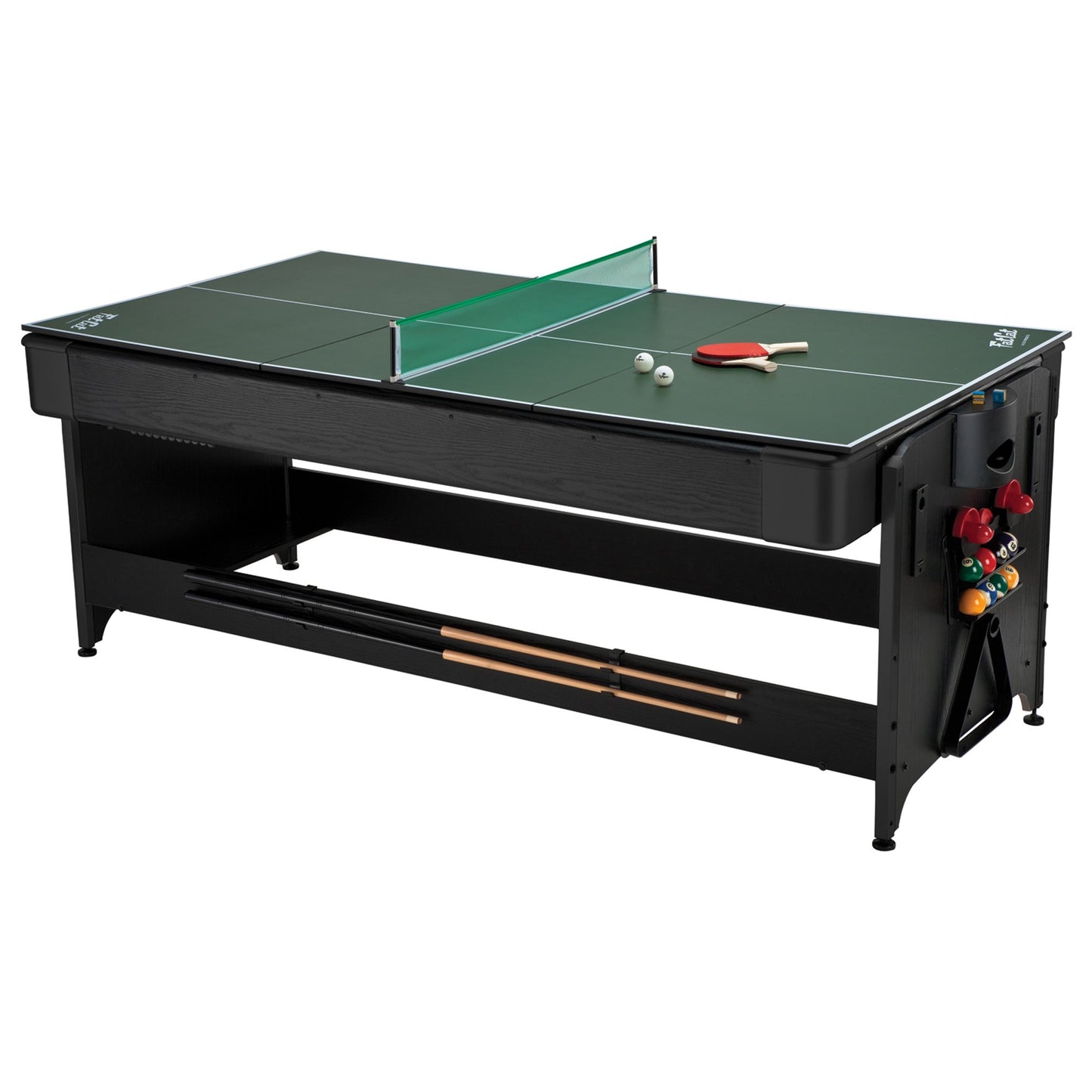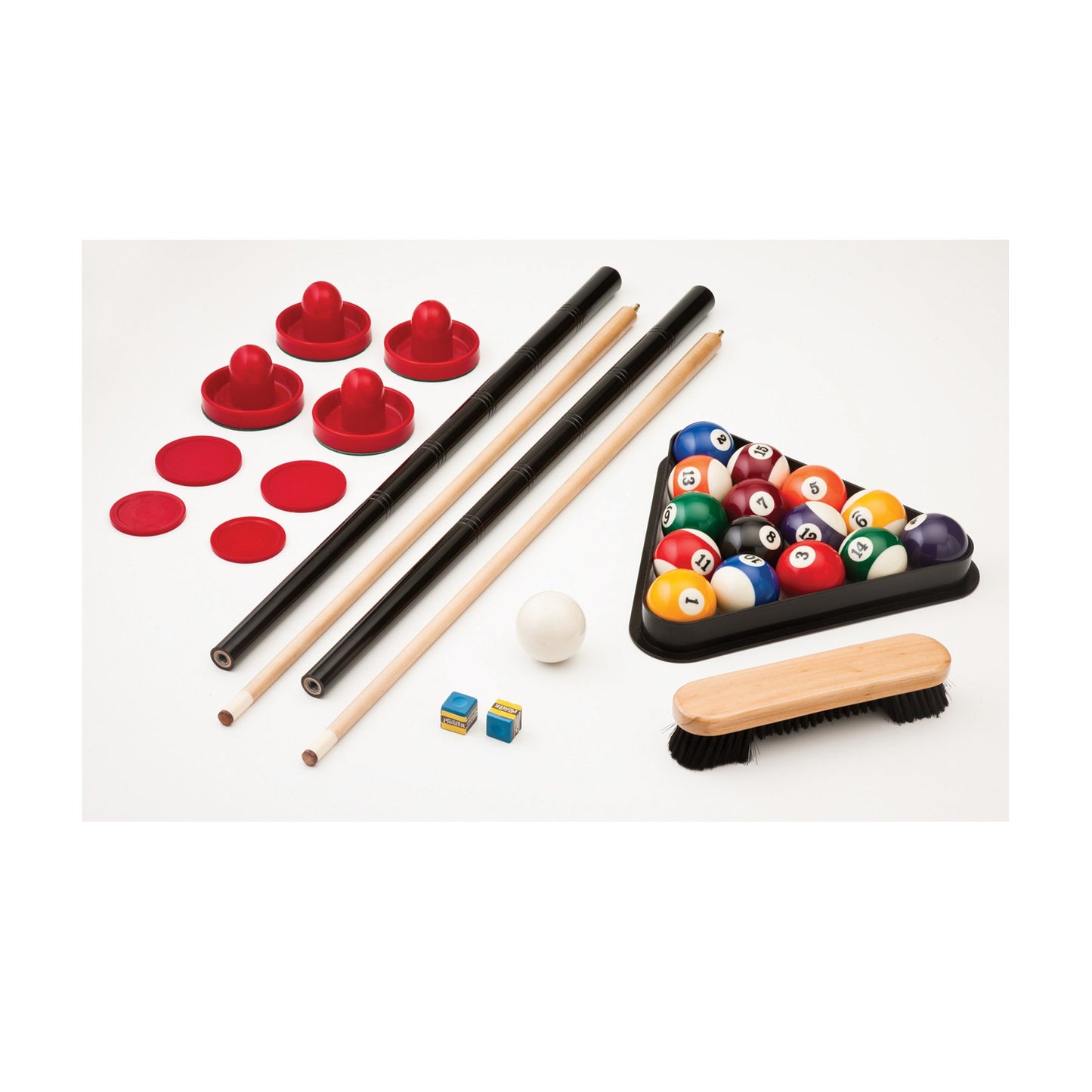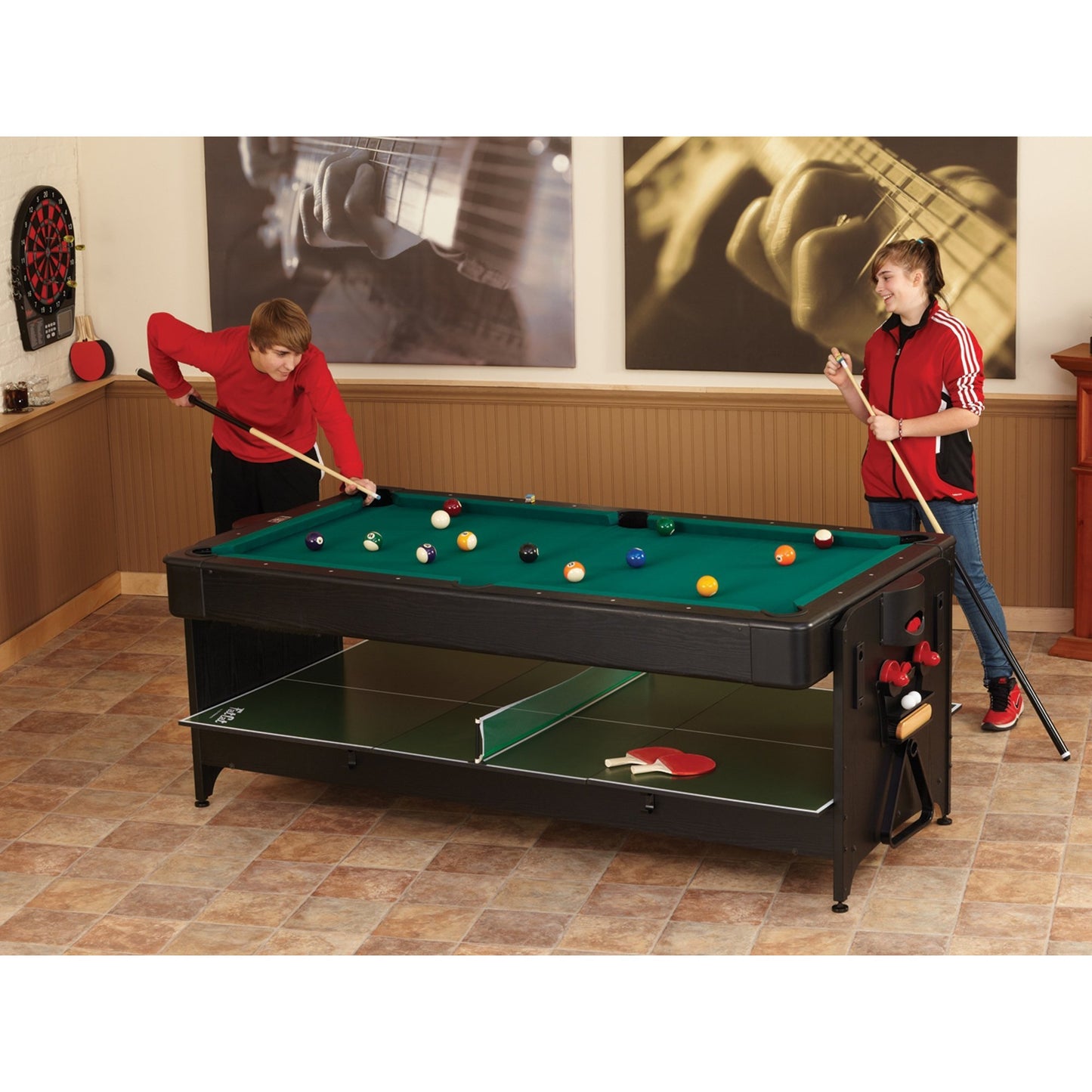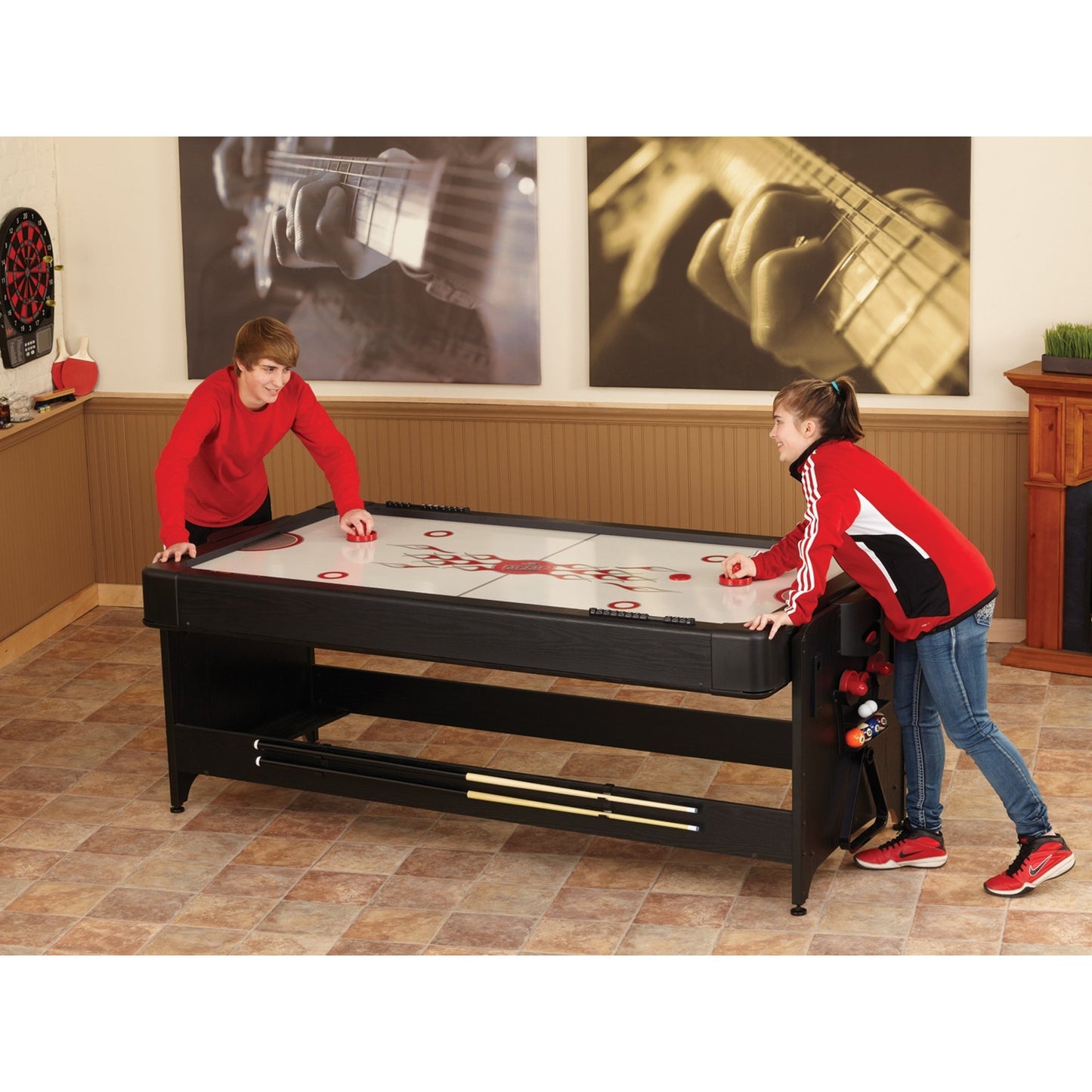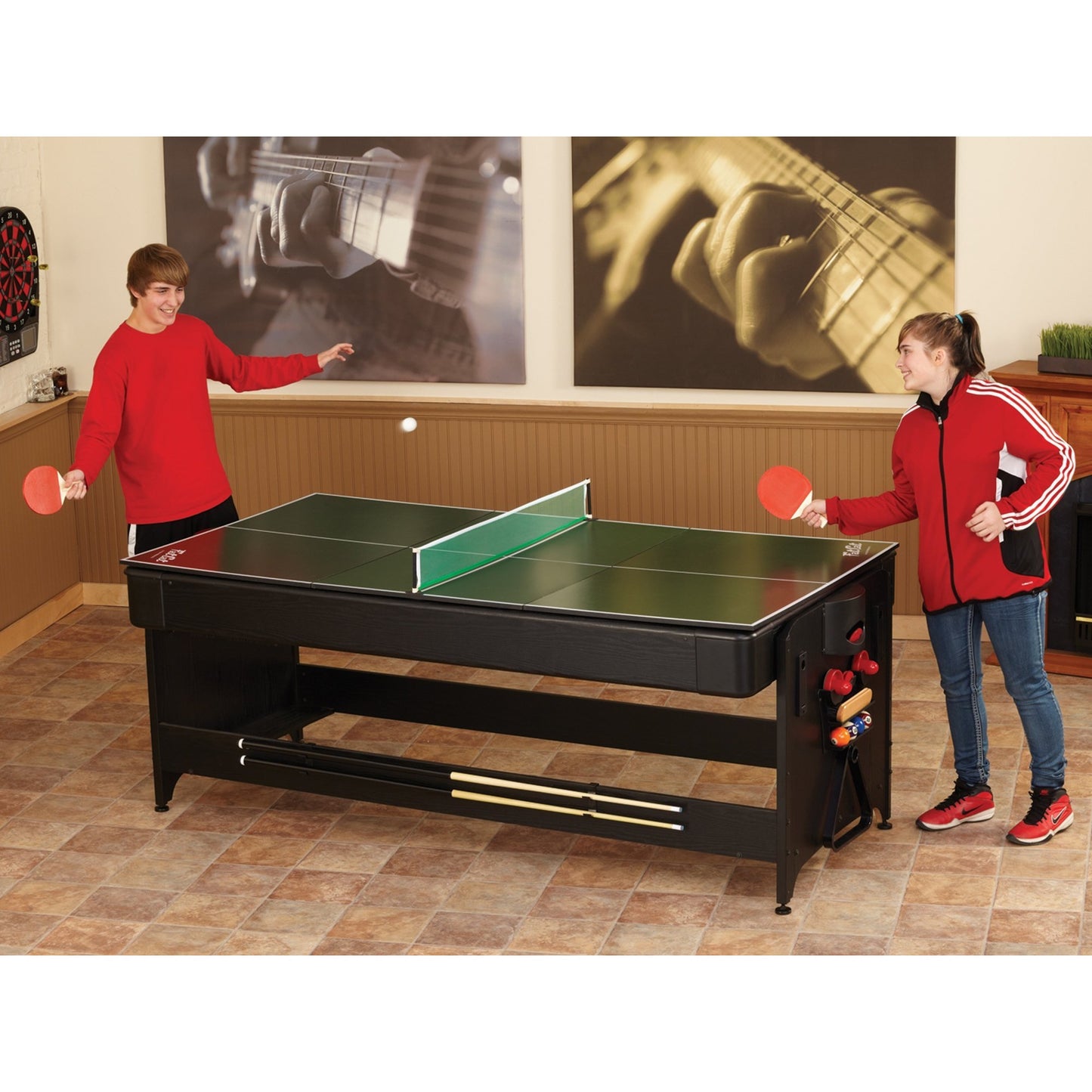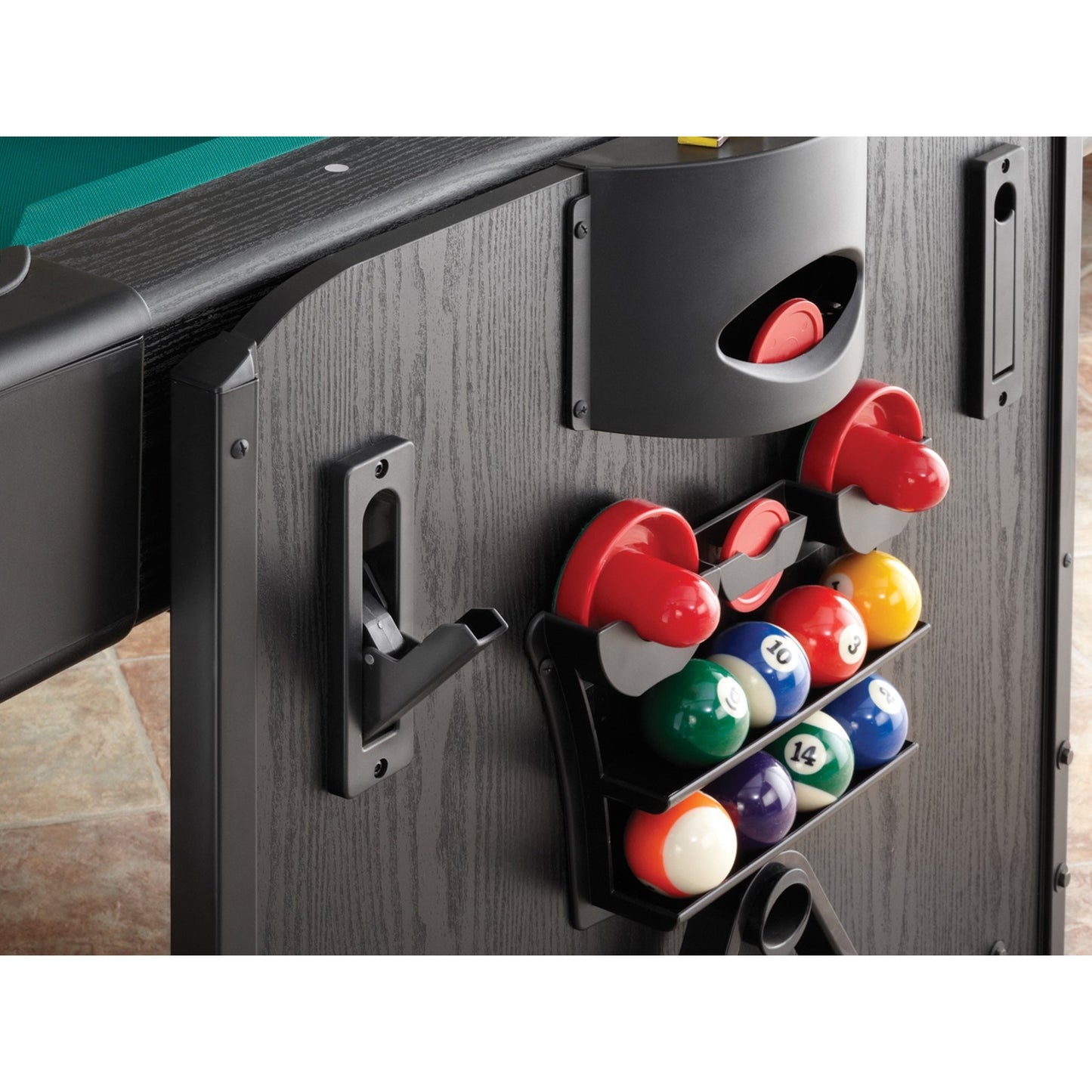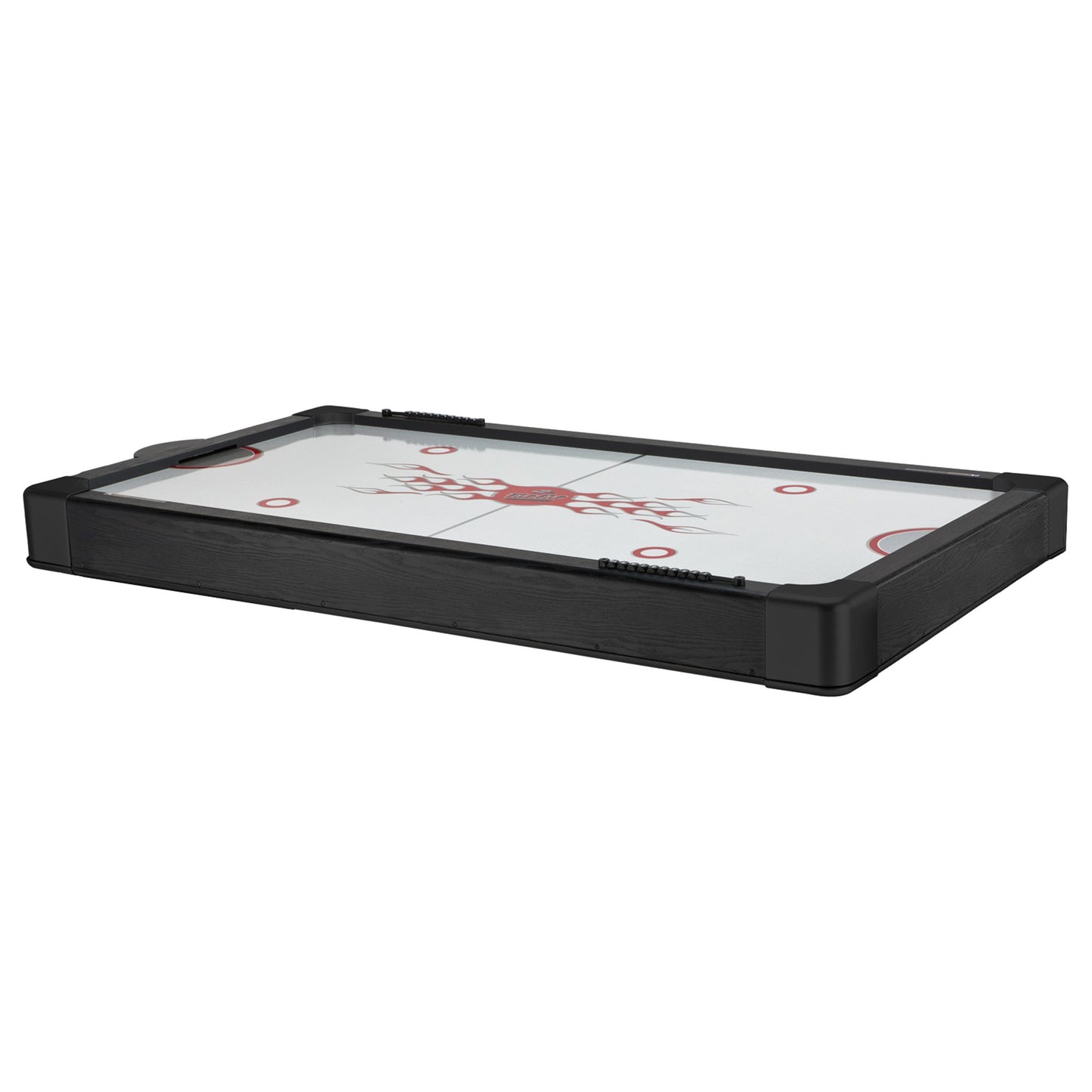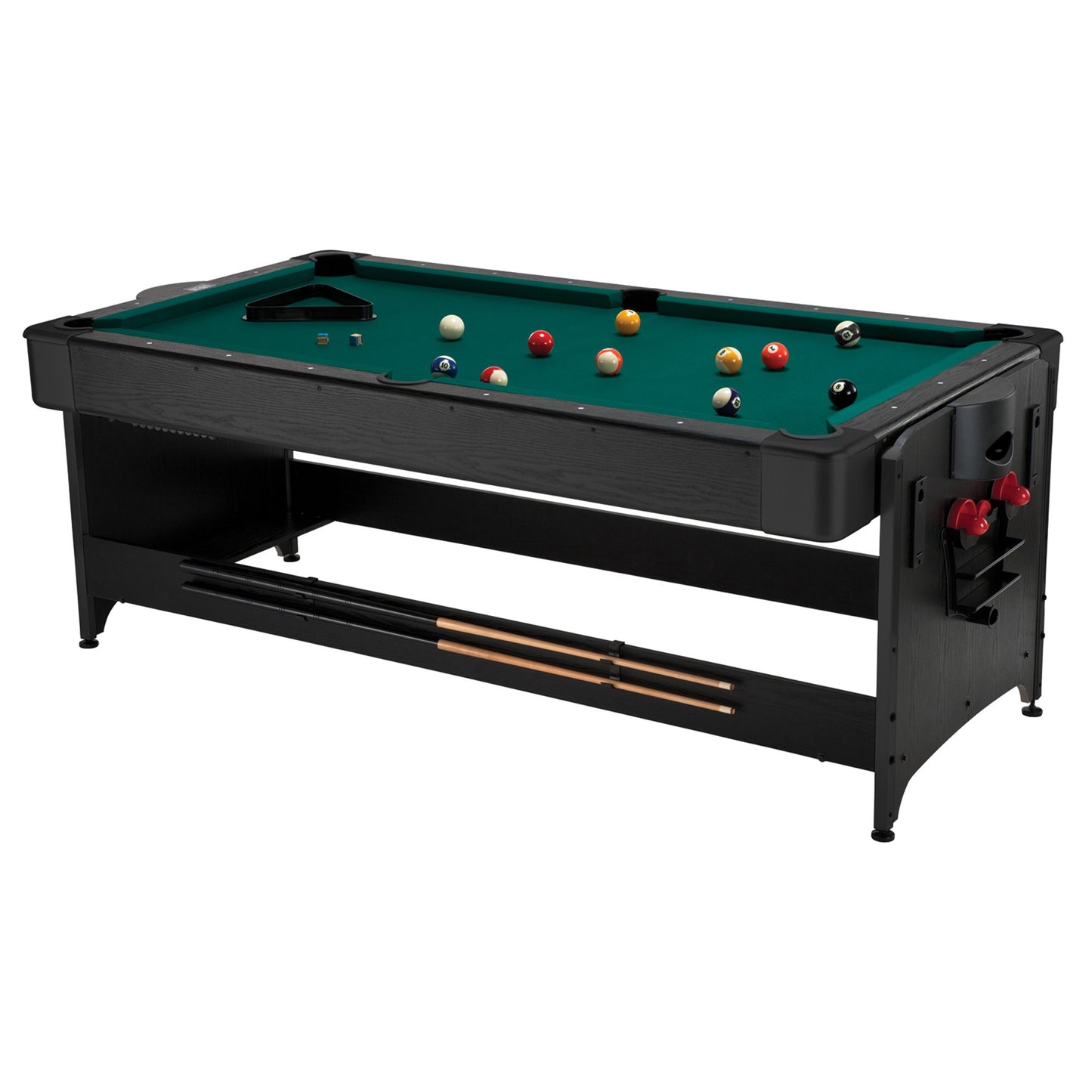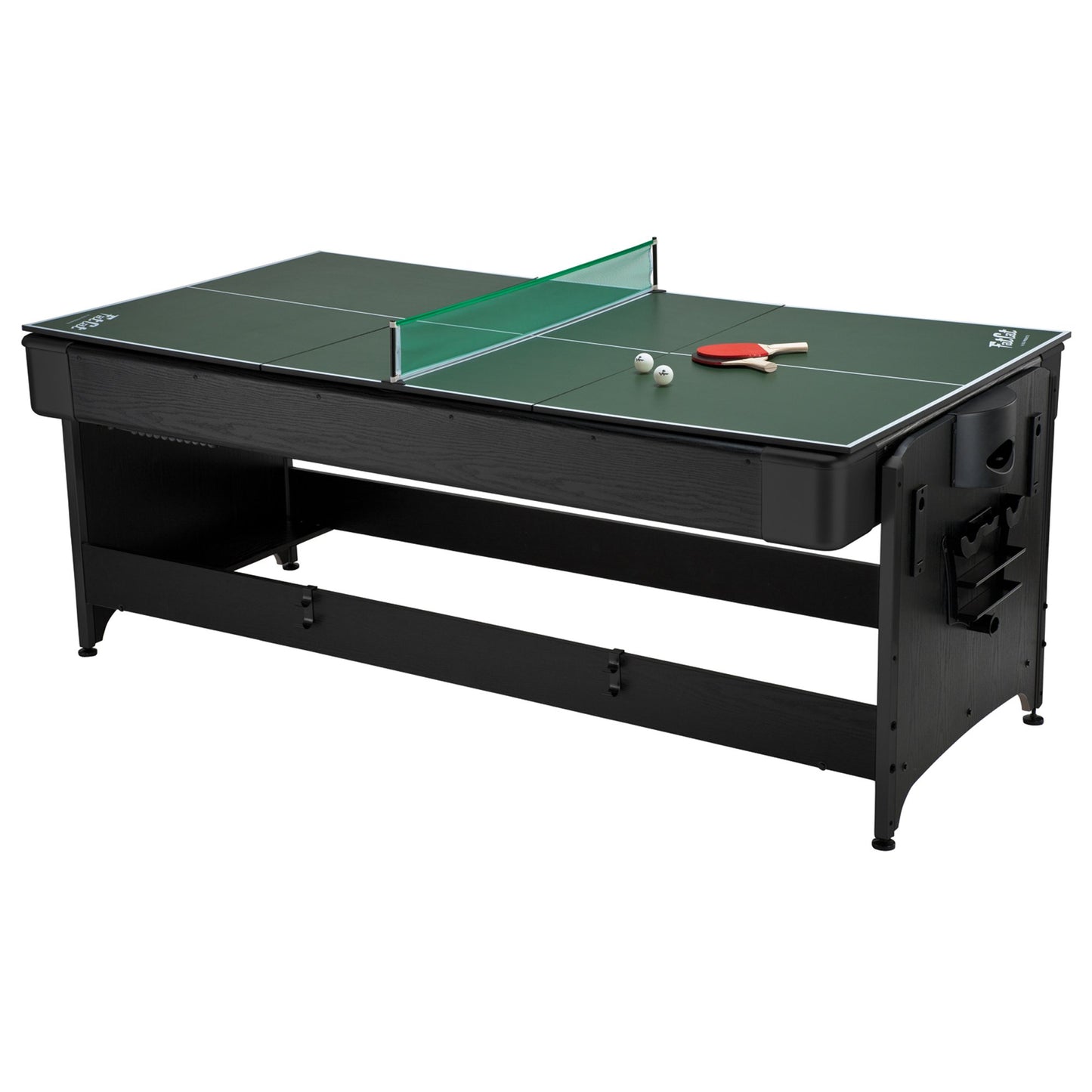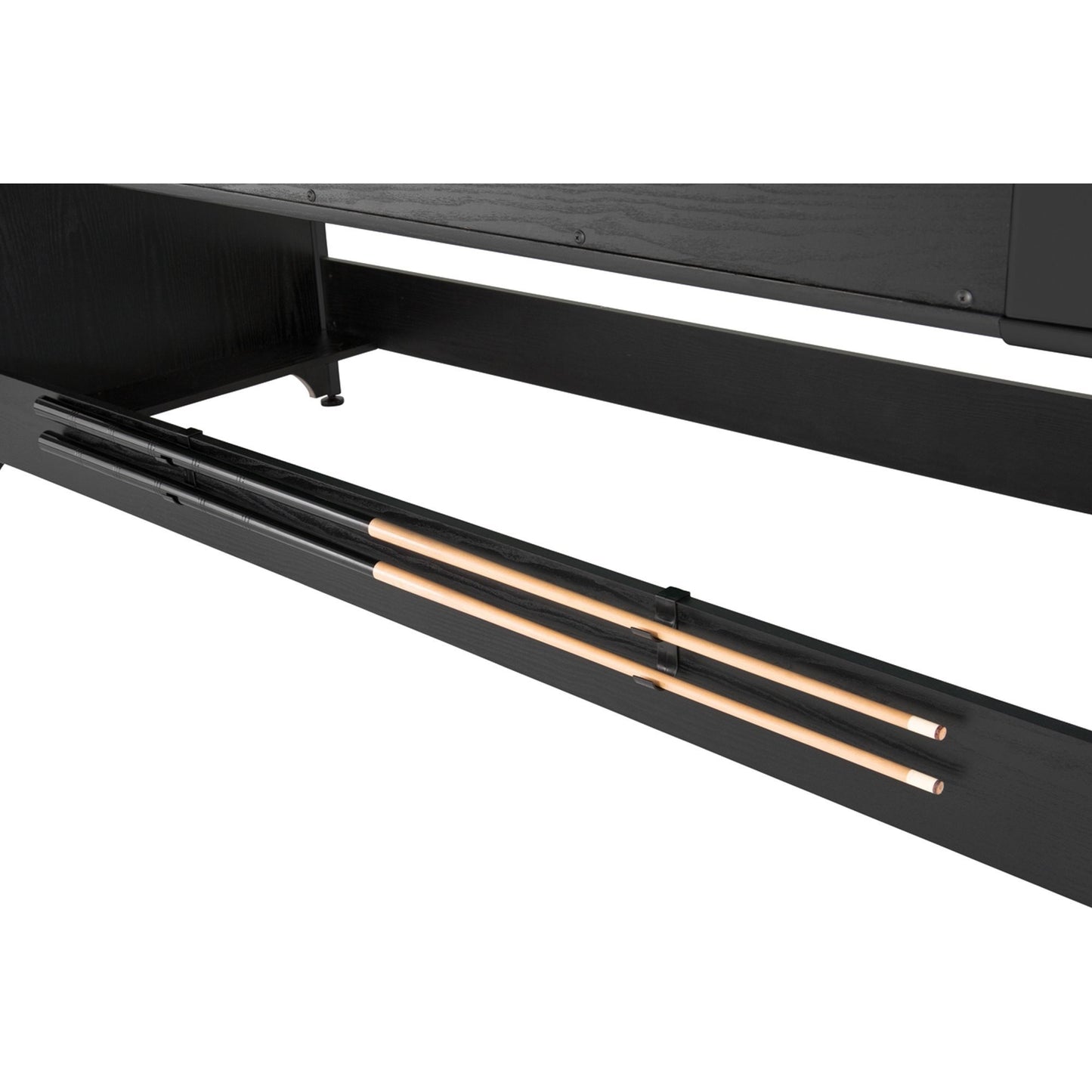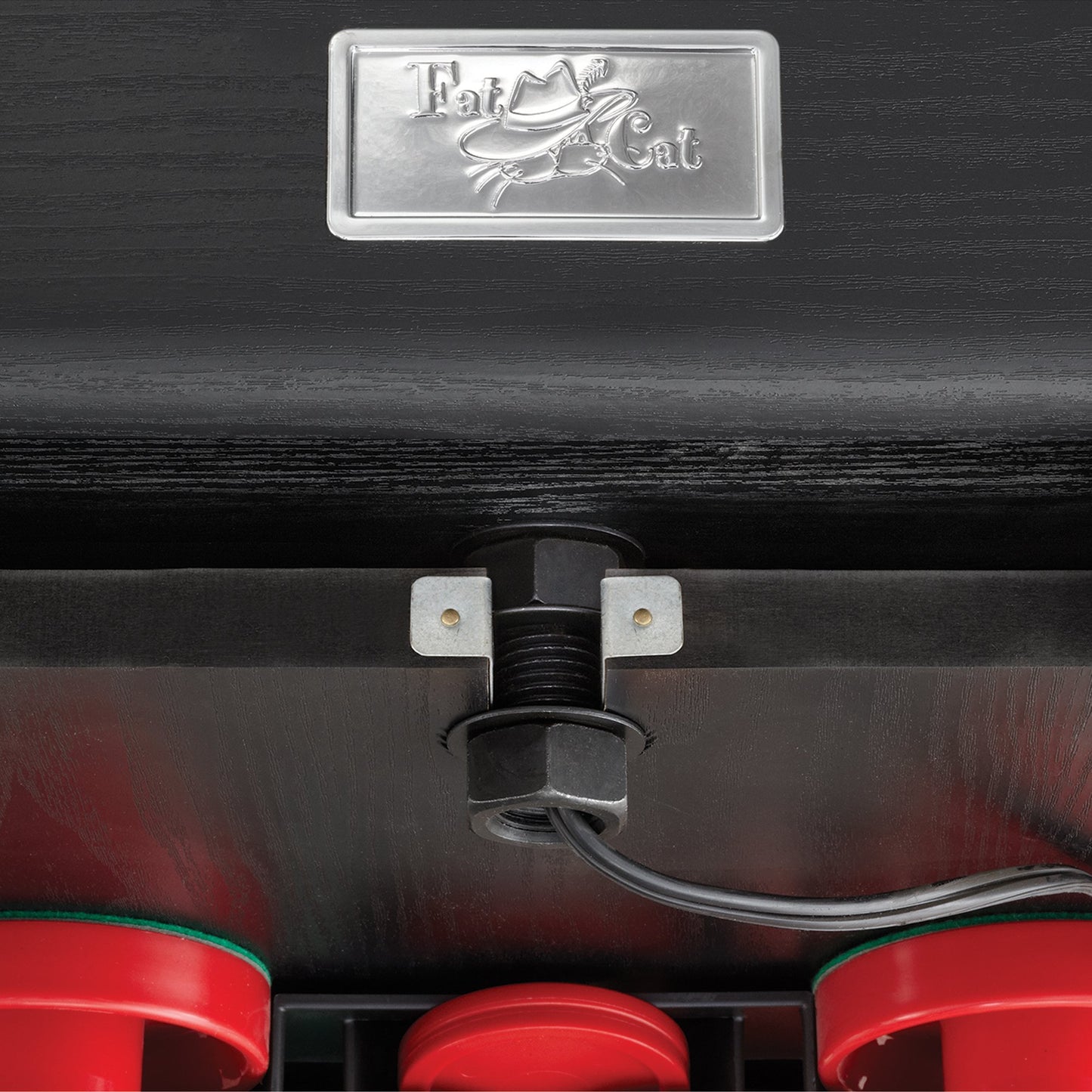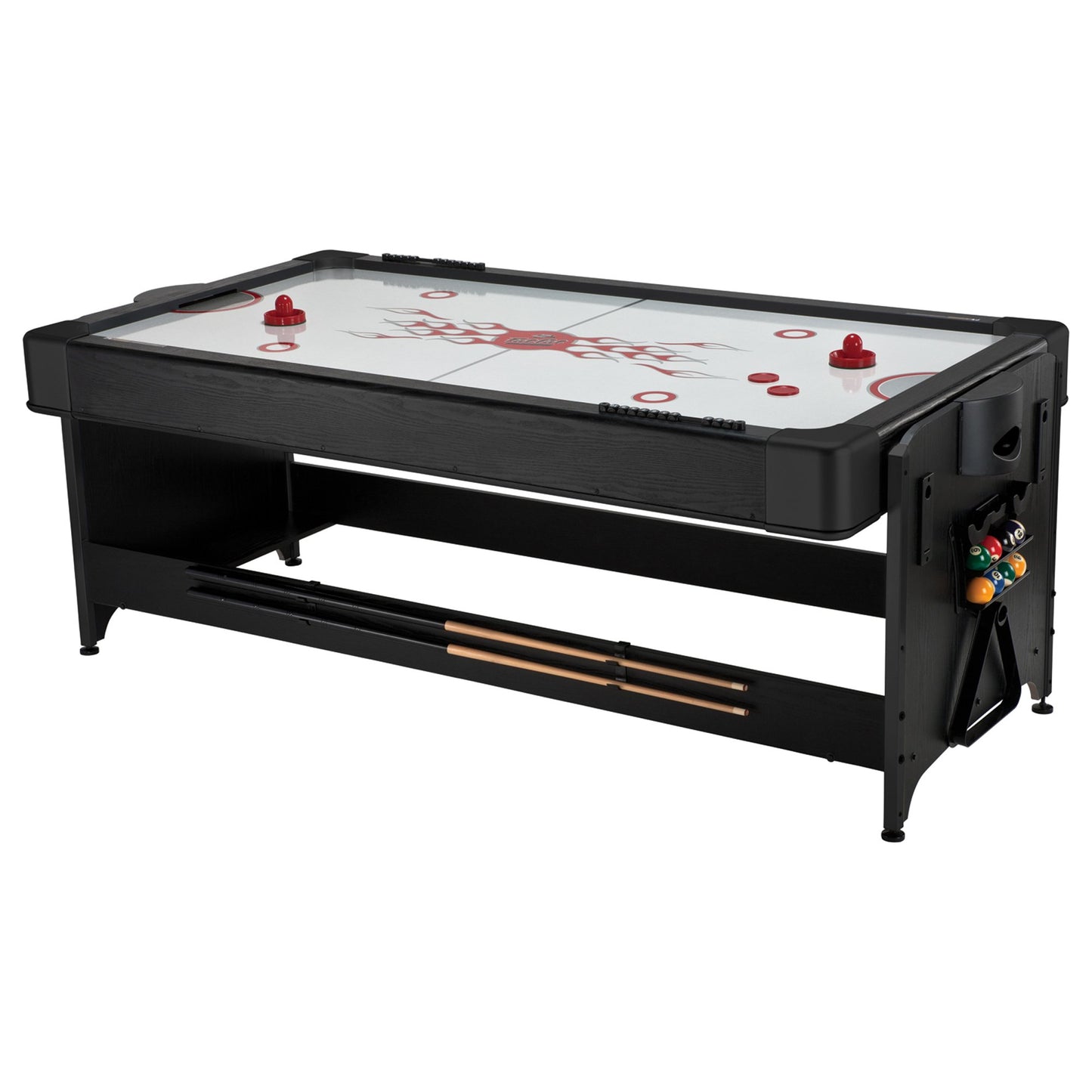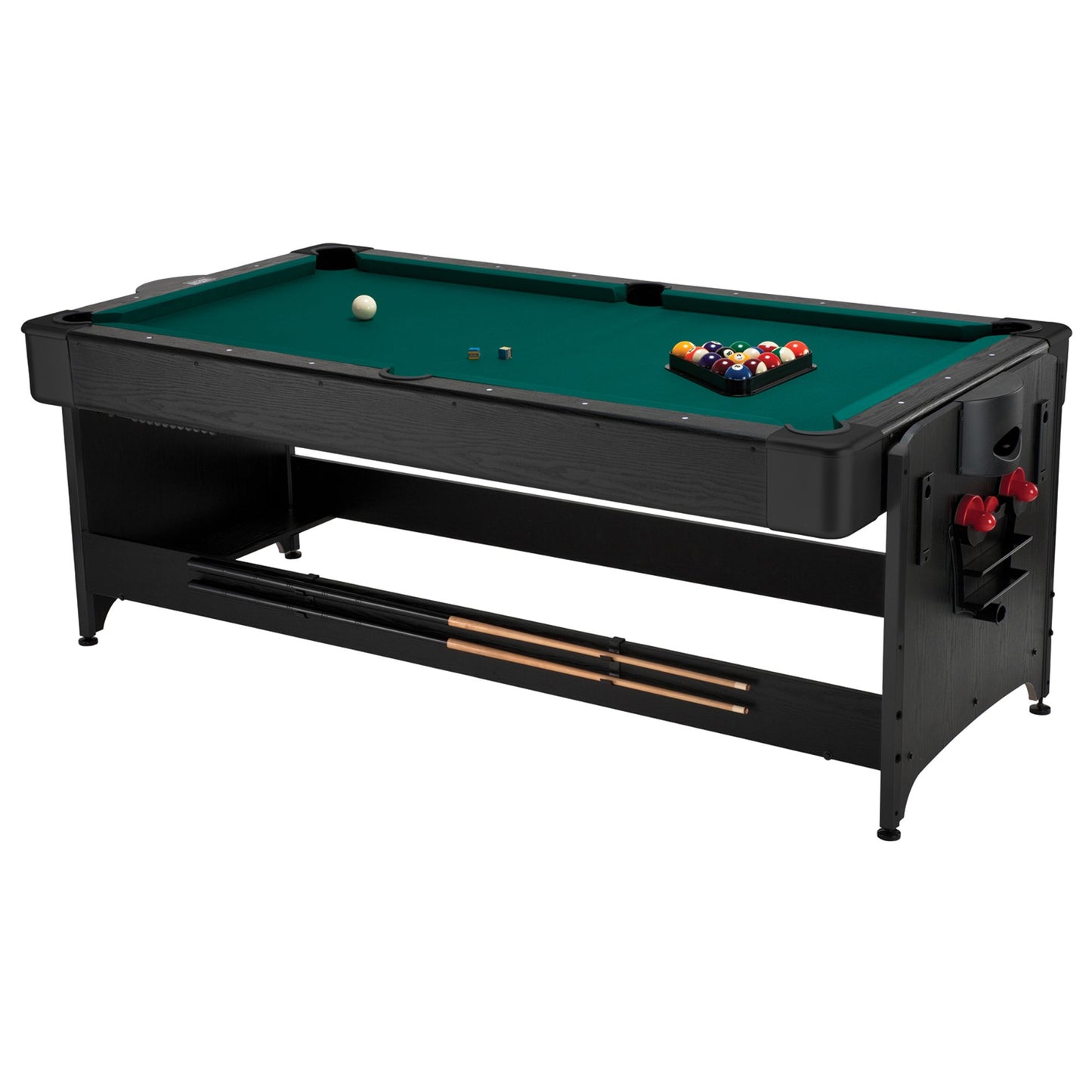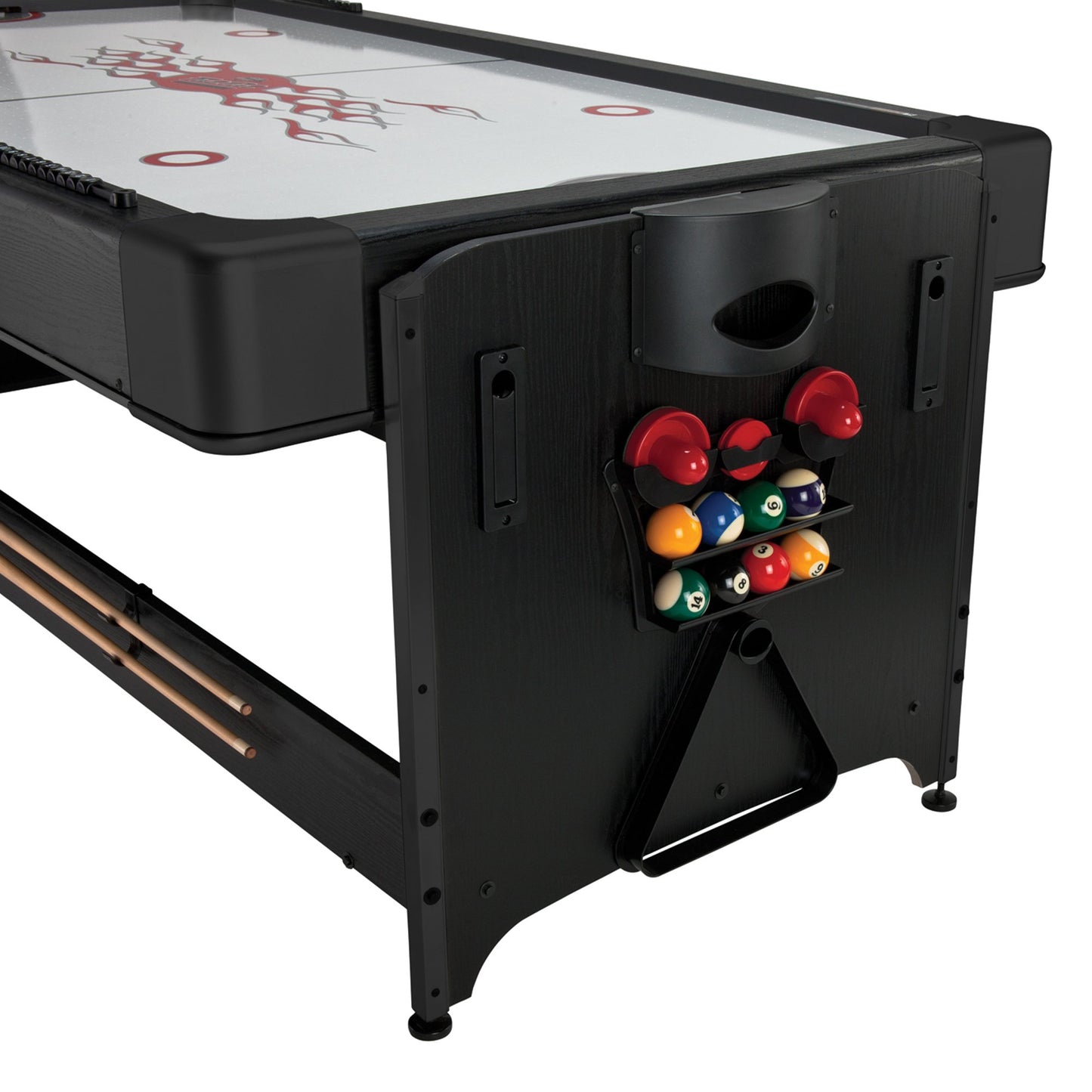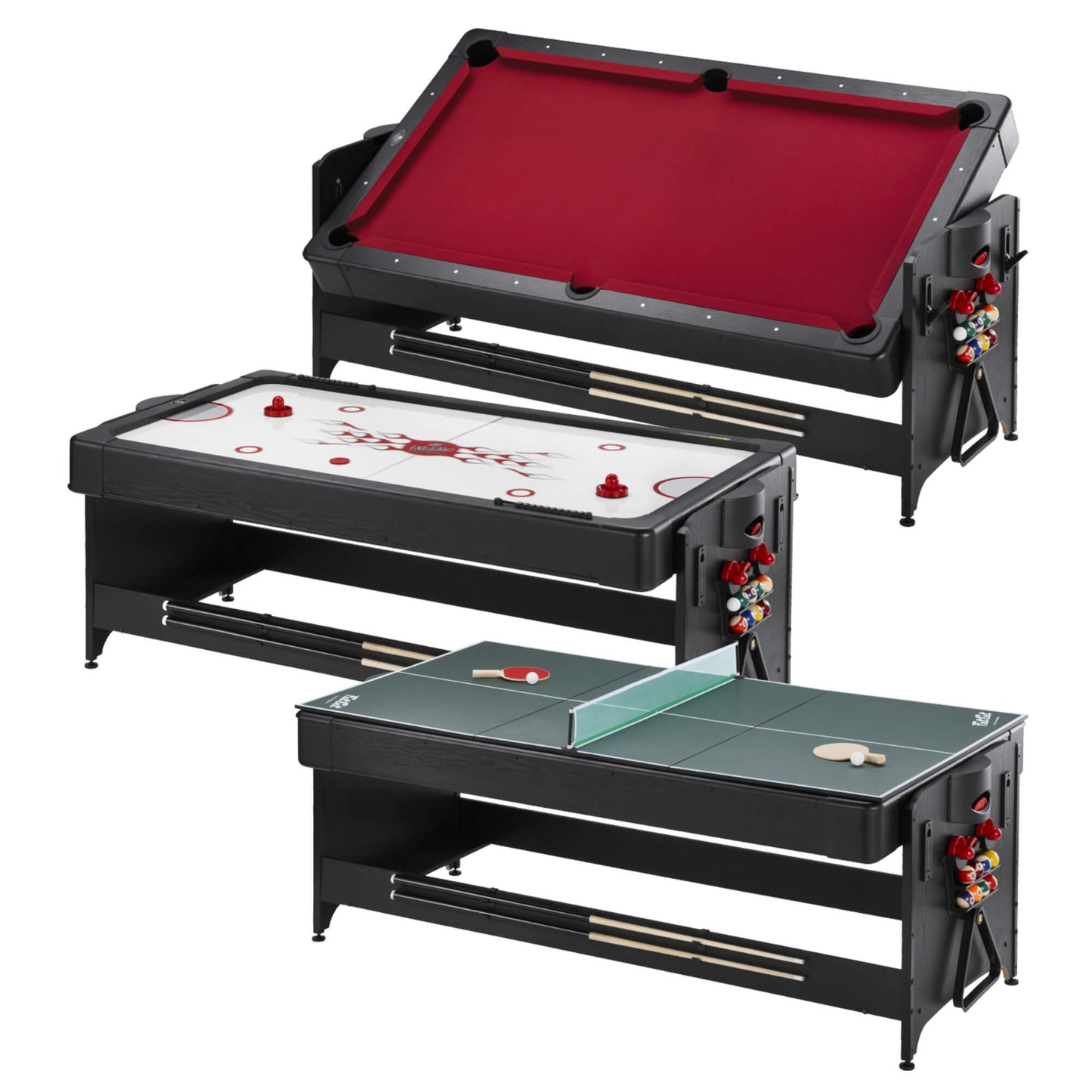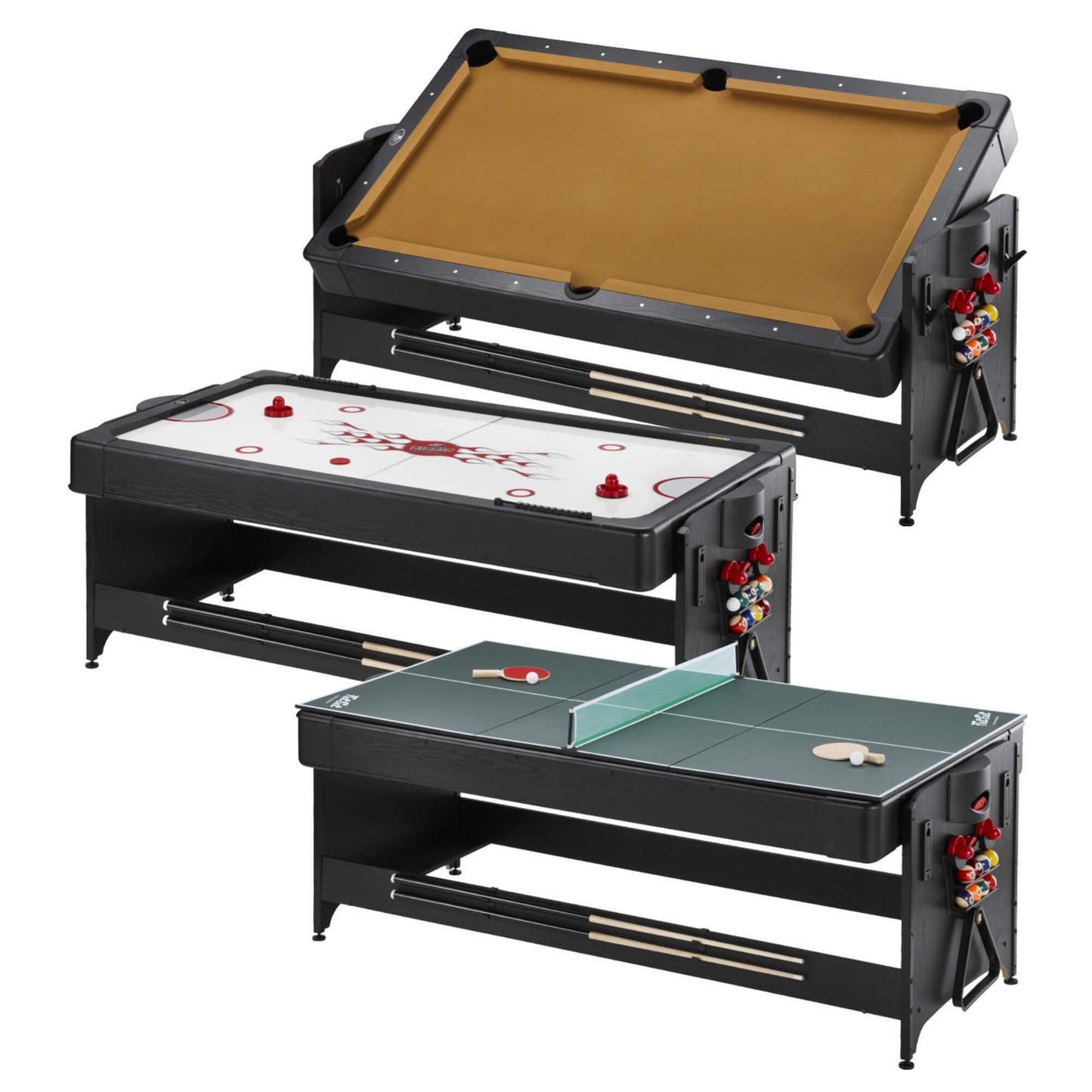 Owner
The table was pretty easy to assemble. All the pieces came in good condition.
It would be best if there was more explanation on how to organize the ping pong table and how to store it. Please advise.
Will recommend to friends. Thanks
LOVE LOVE LOVE this table
LOVE LOVE LOVE this table. It sat in my wishlist for almost 5 yrs because I couldn't afford it nor did I have the space in my tiny apartment. But now that I am in my first home with a rec/game room I had to have it. It was well worth the wait, I absolutely love this for my family and friends. My 5 yr old loves air hockey and my niece love she the pool. I personally love the air hockey and table tennis. It's a good size and fairly simple to put together. Came in great quality, very very happy with my purchase!
Great game center
Just finished assembling this table. I was able to assemble it in a couple hours on my own - just needed help to move it upstairs and then to drop the table on the frame during assembly. It is really heavy! That being said it feels really good, nice and solid and well put together. It is really easy to flip between air hockey and pool table. It looks like the company has heeded recommendation to improve the system to hold the supports in place. They now have metal backing so they won't pull out. The air hockey works great, the puck glides smoothly, and we haven't noticed any dead spots. The center is high, not a bad thing with young kids as the puck doesn't get stranded. The ping pong table surface is small and since it comes in 3 parts (which Velcro together so they won't separate) the surface is not perfectly smooth. The pool table was nice and flat, rails weren't great but for young kids this is fabulous. If I had the room, and the money, I would probably buy each item separately and get better quality. But for a young family this is a great addition to the playroom! I would highly recommend it.
Great Bang for the Puck!
Just got this table for my kids (age 11 and 8) and two adults. So far very pleased.
Received in a flat rectangular box, and was dropped off in our Garage. (see photos)
Reading the other reviews, and since it was just myself and the wife at home to carry everything, I opened the box in the garage, and brought down the parts of the table separately to our basement. The heaviest part was the Top of the table, which I took off and the two of us carried it down to the basement first. The rest of the table was easier and lighter.
Assembly took a little longer for me than the other reviews I read here... It probably took me a good 2 hours, but I took my time and really read everything slowly. Instructions were pretty easy, but sometimes assumes that you know to screw the same things to the "other side" and this is not clearly written out in the instruction book (but intuitive).
Initial Impressions:
Pool : Although smaller table, and not slate, this didn't feel too bad and the table was quite level.
Air Hockey: Fan is not too loud. The puck glided well, but the center of the table seemed elevated, so the puck would tend to fall towards the sides a lot. The puck also didn't seem to glide as fast as the traditional arcade air hockey tables that I'm used to.
Table Tennis: This table seemed very tiny to me. (I grew up with a standard sized one when I was a kid, so that is probably why). The supplied paddles and balls were terrible, and will probably buy some good balls. The size however is good for the kids to get used to playing. I might one day end up buying a larger tabletop. (let me know if anyone has any suggestions!)
The turning mechanism works well, and is easy to flip over. I did notice that one corner of the table did occasionally rub against one of the table supports, but it still worked fine.
Overall, the 3-in-1 functionality outweighs the smaller size, especially for kids, and it looks nice in our basement.